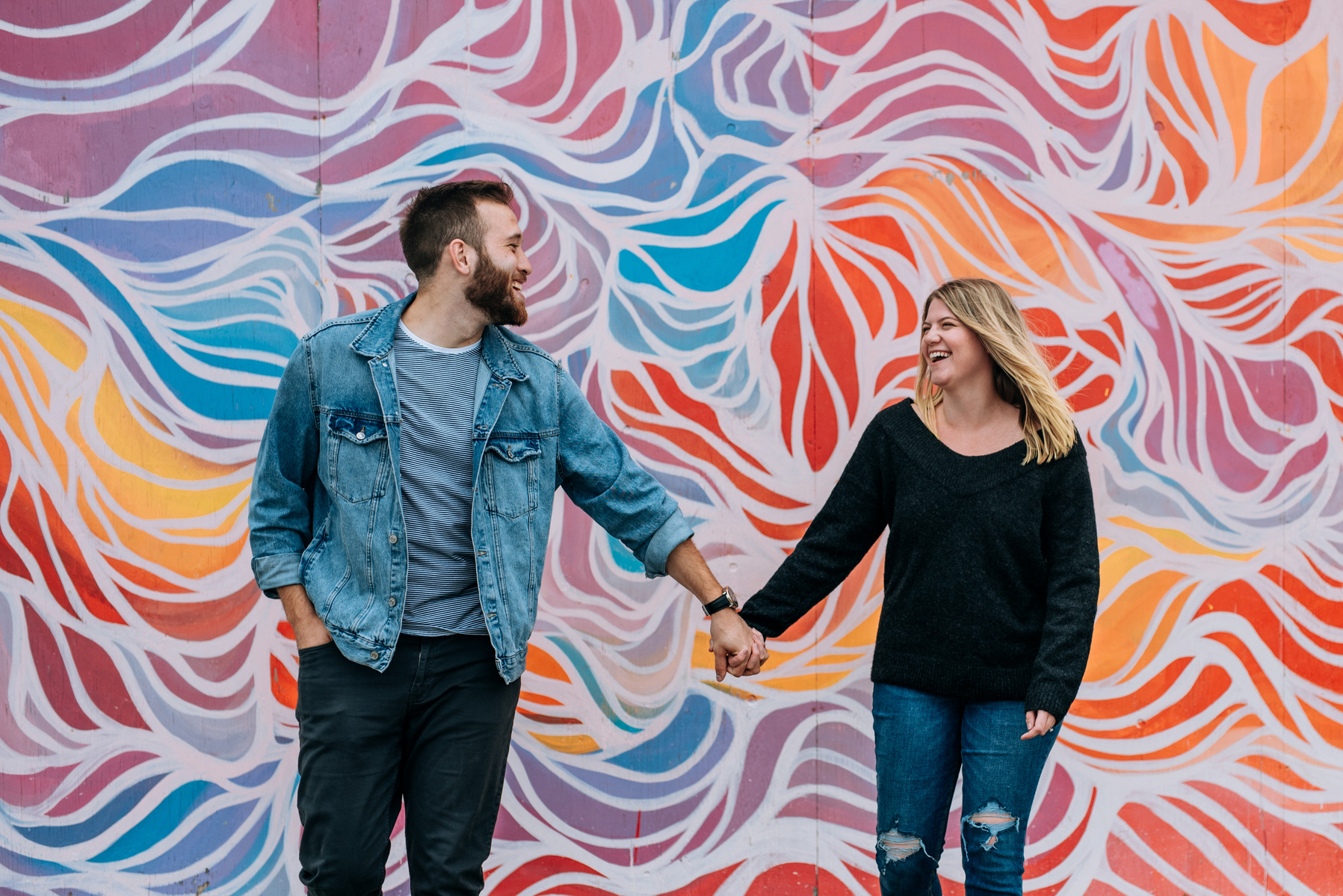 Corin and Kyle have been together for over two years, and as Corin says, "we met as all millenials do…on the internet (thanks bumble!)" These two are getting married this September at one of my favorite venues, Pump House Bed and Breakfast, in Bloomsburg PA.

Asbury Park, New Jersey, was the location of choice for their engagement session! These two basically planned a typical date night for me to photograph! I love when couples choose a location that they frequent often. It makes the images so much more personal and special! Corin says, "It's probably our most frequented travel destination. There's something about the salty ocean air and good food that brings us back often."

Speaking of date nights, Kyle's proposal consisted of him recreating one of their first big dates! They ate at Chelsea Market, visited a museum, and ended with proposing on The Standard High Line with amazing views of the city!
Corin and Kyle decided to bring their lil pup Ralph. He's the cutest lil nugget and had a blast running around Asbury! If you decide to bring your pup along, I highly suggest to bring someone along that can watch your little guy/gal while I do photos of you two on your own!
These two have such a great chemistry together. They're goofy, giggly and so in love! Kyle says, "I love that Corin brings joy to whatever she does and energizes any crowd. She'll deny it, but she has a unique magnetism about her. People want to be in her orbit. Corin is always up for whatever. Spontaneous day trip to go check out a cool restaurant? She's game. Want to spend all day watching The Sopranos and trash TV and order in? Sign her up! Corin has always been supportive and encouraging and is a wonderful cheerleader. I always feel her love, even when we're apart. I also appreciate how driven she is to plan and be prepared when it comes to making experiences as memorable as possible. The best aspects of almost all our trips have come from her dedication to seeking out the best, most fun, and most interesting. Her compassion for others shines through in her work. I know it takes a toll on her, but I've always admired that she's willing to be a voice for those who are need an advocate. Is there a character limit in this box? I could go on."
Corin had some super sweet words to say about Kyle too, "As you can see from his answer, Kyle is my BIGGEST supporter! He always has a kind thing to say and every day I feel how much he loves me. He'll go above and beyond to help any of his friends and family members (and our doggie Ralph). His selflessness is one of the qualities I adore most about him. He's the best fiancé, dog dad, friend, and son. Everyone that knows him knows how amazing he is. It also helps that he went to culinary school and feeds me so well!!"
Speaking of food, when Corin booked the session with me, she let me know that she wanted photos of them eating oysters together. I thought that was such a fun idea, and made their session EVEN more personal! When I asked what their favorite thing to do together was, it was a very easy short, to the point answer! Corin said, "Eat. We have a large running list of restaurants we want to visit and typically our travel centers around food."
When I send out the questionnaire to my couples before writing up a blog post, I have a question that asks what they're most excited for when it comes to the wedding. I think this is my favorite to read because then I know especially what moments are going to be even more important to them on their wedding day. Corin says, "It's cliché, but I'm excited to marry my best friend. I can't wait to be surrounded by all our friends and family and have the best night ever! Also very excited to leave for our honeymoon in Italy right after so we can eat allllll the pasta and drink allllll the wine." Kyle's answer was similar but a bit different, he said, "I'm most looking forward to seeing Corin in her dress, looking her in the eyes, and saying "I do". I can't wait to be her husband. Other than that just to be able to share our love with family and friends! I'm looking forward to the whole celebration."