Cheesesteaks, Champagne & City Hall-City Hall Elopement Philadelphia,
PA
January 22, 2020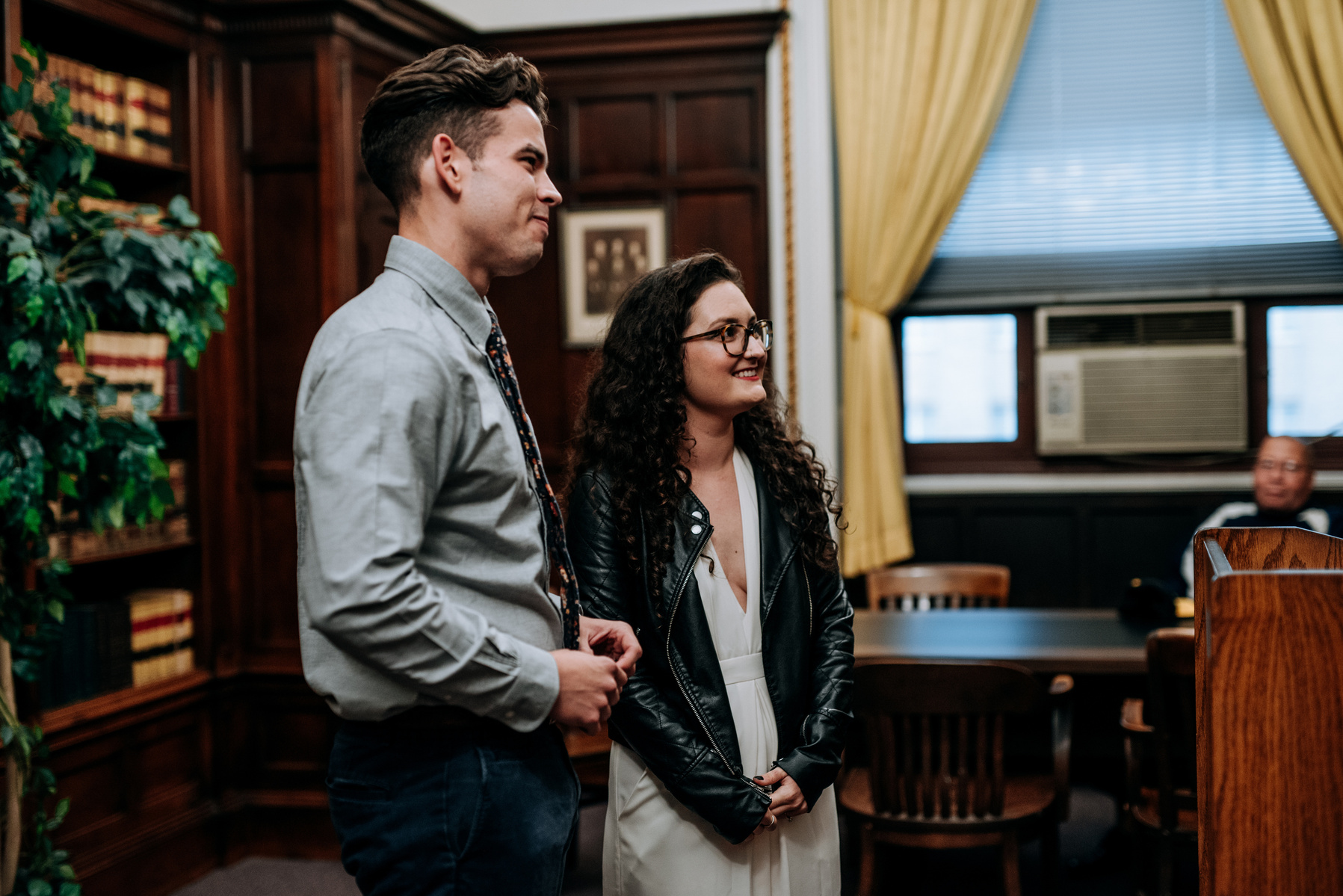 It seems like more and more couples are deciding to elope, instead of having a full on traditional wedding day. I got to photograph Catherine and Tyler elope at City Hall in Philadelphia this past fall. It was honestly such an amazing time and still so special for them and their lil fam!

Catherine and Tyler met while working at a pet store in the city, and Catherine was actually the one to ask Tyler on a date! When it came to the proposal, Catherine said "Tyler asked me to marry him in my apartment in Old City. Very low key & relaxed. He was also just too nervous to wait any longer after the ring had been hiding from me in the dresser for a few days!"

When it came to the big day, Tyler's most anticipated moment was the first kiss and getting to wear his wedding band! They actually overnighted the wedding band the day before and didn't know if it was going to make it in time for the actual ceremony at City Hall!

Catherine was just so excited to call Tyler her husband; Throughout the day she kept looking down at his hand and would get so excited seeing the ring on his finger. It was probably the cutest thing I've ever seen.
Catherine and Tyler have an adorable lil girl named Ophelia! One of Tyler's favorite moments from the day was when Ophelia was woken up from the people clapping after they were told to kiss!

Tyler also enjoyed people watching while in the court room as we waited our turn to be called in. It was so fun seeing all of the people who were also getting married that day! Everyone's outfits were all so unique and different!

After they made it official in the court room, we headed out to get some food in our bellies! Catherine says one of her favorite moments was being able to snack on a vegan cheesesteak after the ceremony! When it comes to eloping, you don't have a set schedule or someone telling you where to be/go! Catherine, Tyler and Ophelia were allowed to go where ever they wanted whenever! Catherine says it best, "Getting to spend the day in such a relaxed way with my partner with no other expectations or worries was honestly the best part. We didn't have to worry about anyone but our family on our special day and that is exactly how it should be."
When it comes to advice, Tyler says, "Do whatever is important to you, that's all that matters." I love how much you can tell that these two care about each other. They knew what they wanted and that they didn't need to have a huge celebration to prove their love. Catherine says, "Remember that is is just a few hours on one day of your life-it doesn't need to be a consumptive event. You should focus your energy on making your relationship and future better with your partner."

After filling our bellies with Hip City Veg Cheeseteaks, we drove around the city and hit up some of their favorite spots, including the park they had their first date at! We ended the day popping some champagne under the el on Front Street in Fishtown. These are definitely some of my favorite photos from the day!

These two for sure loved that they eloped, and I did too! It was such a fun, different change from photographing a traditional wedding day. Catherine does have some advice for people wanting to get married at City Hall in Philadelphia, "We had to book ours (wedding date) in August to be married in October; It was a crazy process that I had no idea about until we had to deal with it!" I will say there isn't a ton of instruction the day of either. Be prepared to sit and wait in the court room with a ton of other people, to then be called into a separate room where they do the actual ceremony. You'll definitely sit longer in the room waiting than you'll be in the room for the ceremony! Other than that, they both strongly recommend eloping if it's even a thought of yours! Their piece of advice, "Stop worrying about pleasing everyone!"